One of the leading Italian sculptors of the 20th century, Marino Marini was also a painter, a printmaker and a excellent draughtsman. Born in Pistoia, he attended the Accademia di Belle Arti in Florence. He devoted himself primarily to sculpture from about 1922. From this time his work was influenced by Etruscan art and the sculpture of Arturo Martini. Marini succeeded Arturo Martini as professor at the Scuola d'Arte di Villa Reale in Monza, near Milan, in 1929, a position he retained until 1940, when he became Professor of Sculpture at the Accademia di Brera in Milan. During the 1930s he traveled frequently in Europe. In Paris he associated with De Chirico, Campigli, De Pisis. He was in contact with many of the distinguished modern artists of that time, including Braque, Picasso and Giacometti. However, Marini was not influenced by their styles or movements, remaining essentially isolated in his artistic aims. Since the Second World War Marino Marini has been widely recognized internationally as one of the outstanding creative figures in contemporary sculpture.
Marini has portrayed in his sculptures other artists, including De Pisis, Moore, Carrà, Melotti, but never portrayed Giorgio Morandi (1890-1964), one of the most important Italian painters of his day and one of the few Italian artists of his generation to have evolved a style of pure pictorial values congenial to modernist abstraction. The drawing presented here demonstrates the extreme ability of Marini of suggesting plastic values with a few signs of chalk, which is a characteristic of the draughtsmanship of the great sculptors. At the same time shows his sensitivity in evoking the salient and intimate features of the character of Morandi, an artist of great rigor but rather isolated, who led a secluded life in Bologna.
We do not know exactly the circumstances in which this portrait has been drawn. However, it is highly likely that it has been made in a meeting between Marini, Morandi and the critic and art historian Carlo Ludovico Ragghianti (1910-1987) at the Venice Biennale of 1948. The drawing was in fact published in the journal '"Critica d'arte", conducted by Ragghianti, in 1985, when the sheet is likely to have belonged to the critic, with the precise dating of 1948. Later (1999) the portrait has been published in the exhibition catalogue 'Carlo Ludovico Ragghianti and the cinematic nature of vision' associated with a photograph of Marini, Morandi and Ragghianti in Venice during the 1948 Biennale. The 24th Biennale exhibition in 1948 was particularly significant. After a six-year break during World War II the Venetian exihibition was resumed in that year with renewed attention to avant-garde movements in European contemporary art.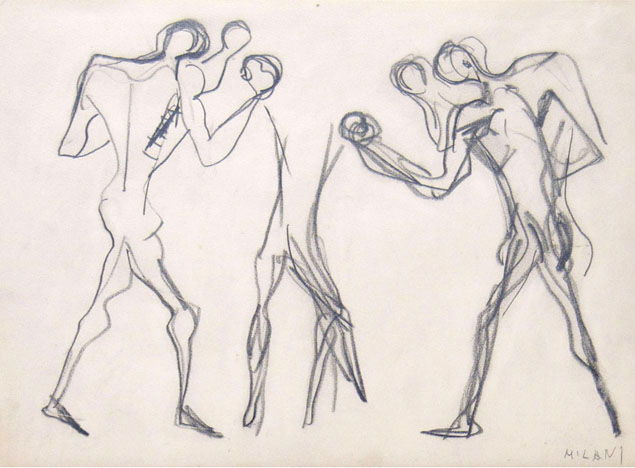 Apparently it has never been noted before that the drawing has been done on one of the four sides of a thin sheet of wove paper folded in half. On each of the other three sides there is a drawing in black chalk by Umberto Milani (1912-1969). Two of the three drawings are signed, and there are evidences that all the three have been drawn before the portrait by Marini.
A sculptor and painter, Umberto Milani was a pupil of Adolfo Wildt at the Brera and was also influenced by Arturo Martini. In the forties Milani updated his style on Cubism, which was embraced by the younger generation. His post-war production was his most significant: Milani made sculptures developed mainly in two dimensions, close to spatialism and Lucio Fontana. Martini and Milani, both sculptors active in Milan, certainly knew each other, but we ignore the circumstances under which this portrait of Morandi was sketched by Marini on a paper previously used by Milani.